Overview
The following are instructions for signing in to e-anatomy from off-campus so that you can still access all the premium features.
STEP 1
On your iPad, use the webclip for e-Anatomy. this is different from the e-Anatomy app and will have black bars around the icon. You can also use this link.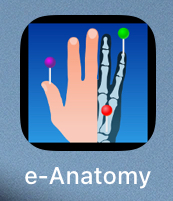 STEP 2
Sign in with your JumpCloud credentials.
STEP 3
You should now have access to all the premium images and features.